So finally, I am living up to a dream of attending a large music festival: Bonnaroo 2008. It's official; the tickets are purchased.
Despite the fun road trip down to Manchester, TN, we will be camping for four nights and seeing four incredible days of non-stop music. June 12-15. Check out the website
here
. Could I be any more excited?
Check out the line-up (up to this point) of artists at Bonnaroo:
Pearl Jam
Metallica
Jack Johnson
Kanye West
Chris Rock
Robert Plant & Alison Krauss
Phil Lesh and Friends
My Morning Jacket
The Allman Brothers Band
The Raconeteurs
Willie Nelson
Death Cab for Cutie
BB King
Sugar Ros
Levon Helm
Ben Folds
OAR
Cat Power
Bluegrass Allstars
MIA
Umphrey's McGee
Iron & Wine
Yonder Mountain String Band
The Swell Season
Zappa Plays Zappa
Talib Kweli
Derek Trucks
Broken Social Scene
Robert Randolph's Revival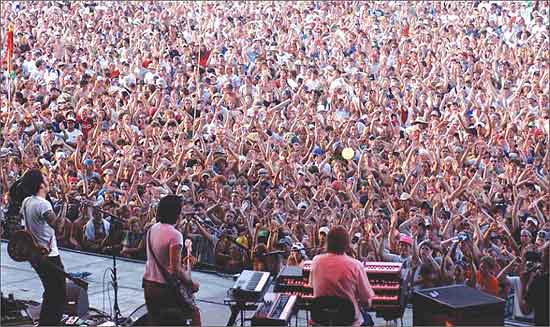 Gogol Bordello
Rilo Kiley
The Disco Biscuits
Mastodon
Lupe Fiasco
Against Me!
Sharon Jones
Pat Green
Ozomatli
Tegan & Sara
Solomon Burke
Drive-by Truckers
Mstrkrft
!!!
The Avett Brothers
Israel Vibration
Abigail Washburn
Aimee Mann
Ladytron
The Fiery Furnaces
Orchestra Baobab
Ghostland Observatory
Jose Gonzalez
Dark Star Orchestra
Minus the Bear
Donavon Frankenreiter
Lez Zeppelin
State Radio
Battles
Jakob Dylan
Two Gallants
The Sword
Vampire Weekend
Little Feat
Nicole Atkins
Chromeo
The Felice Brothers
Mason Jennings
MGMT
The Lee Boys
Serena Ryder
Steel Train
Grupo Fantasma
Back Door Slam
A lot of the bottom of the list include bands I am not too familiar with. Has anyone seen any of these bands play and has any advice on their music or live performance? Which bands are good/bad?
I want to check out some bands before I go down, and I would appreciate feedback on who I should look into and who I should pass up.
Or, has anyone been to Bonnaroo before who has any advice on the festival?
I can't wait! Thinking about the festival also brought up good conversation between Kelly and I. I'm not really sure how it's run. Are people's jobs to run Bonnaroo? How sick would that job be? I mean, the people who recruit the bands and place them in certain times slots, etc. Her opinion was that they're volunteers, but that seems very time-consuming for a volunteer job, yet it's not a full-year job either. And does most of our ticket money go to the artists, because they can't be playing for free. Or are they? There are so many artists there that I can't see how they can all be paid anything worth their performance. The whole money ordeal confuses me. Does anyone know?
And then I was thinking, imgaine you could construct your own music festival. Who would you put in your line up?
(My dream fest: Dave Matthews Band, Pearl Jam, Rusted Root, Foo Fighters, Audioslave, Red Hot Chili Peppers, Jack Johnson, Counting Crows, Incubus, Radiohead, Hootie, Umphrey's McGee, moe., Citizen Cope, Ben Harper, Modest Mouse, The White Stripes, Natalie Merchant, and a special appearance by Bob Dylan, just to name a few. I didn't want to get too crazy and put up broken-up bands on there.)