As I mentioned in an earlier blog post, I was reading a book on Dr. Seuss. As I read each children's story, I am enlightened by the deeper meanings behind each story. I am captivated that each story, of which I overlooked as a child, and now I revisit them and read them with a whole new frame of mind.
In this blog post, I want to expose deeper meanings, purposes, or themes that derive from various Dr. Seuss stories, some of which you might not be familiar with.
The Cat in the Hat
(1957)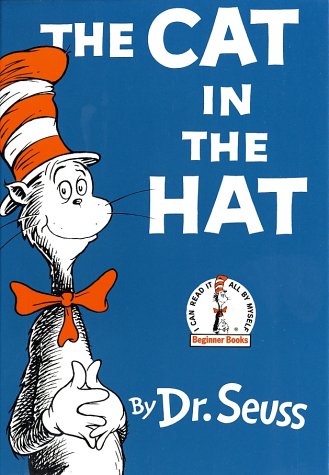 -Promoting children's imagination
-A revolt against authority
-Created as a Seuss alter-ego
How the Grinch Stole Christmas
(1957)
-Consumerism (of Christmas)
-Materialism
-We don't focus on the holiday anymore! Appreciate!
Horton Hears a Who
(1954)
"A person's a person no matter how small."
"I meant what I said and I said what I meant
an elephant's faithful one hundred percent."
-Trust yourself when others say otherwise
And to Think That I Saw It On Mulberry Street
(1937)
"Stop telling such outlandish tales,
stop turning minnows into whales."
-Don't tarnish or hinder the child's imagination. Imagination is a beautiful, wonderful thing.
Yertle the Turtle
(1958)
"And today the great Yertle, that marvelous he,
Is the King of the Mud. That is all he can see.
And the turtles, of course... all the turtles are free
As turtles, and maybe, all creatures should be."
-The abuse of power
-Taking things that aren't rightfully yours (imperialism)
-Harsh and cruel treatment to other people
-Symbolism: Hitler/Moussolini
-Sympathy for the underdog
-Tyrants cause their own downfall
-Greed
The Sneetches
(1961)
"That day they decided that Sneetches are Sneetches
And no kind of Sneetch is the best on the beaches.
That day, all the Sneetches forgot about stars
And whether they had one, or not, upon thars."
-Against anti-semitism
-Tolerance
-Bigots
-Greed/money
-Superiority
-Civil Rights
The Lorax
(1971)
-Negative impact we have on the enviornment
-Global warming
-The voice of the minority
-Anti-industry
Green Eggs and Ham (1960)
-Try new things
-Keep an open mind
-Persistance
-Stubbornness
Oh, The Places You'll Go!
(1990)
"You have brains in your head.
You have feet in your shoes
You can steer yourself
any direction you choose.
You're on your own. And you know what you know.
And YOU are the guy who'll decide where to go."
"I'm sorry to say so
but, sadly, it's true
and Hang-ups
can happen to you."
"I'm afraid that sometimes
you'll play lonely games too.
Games you can't win
'cause you'll play against you."
You'll get mixed up, of course,
as you already know.
You'll get mixed up
with many strange birds as you go.
So be sure when you step.
Step with care and great tact
and remember that Life's
a Great Balancing Act.
Just never forget to be dexterous and deft.
And never mix up your right foot with your left."
-Life is full of hard decisions. Choices are not easy.
-Sadness, loneliness, despair, isolation, etc. are all a part of life, but we are strong and wise enough to get through it and enjoy the beauty of life.
-Choose your paths wisely.
-Explore the world! Explore your options!
-We all make mistakes. The trick is what we do with them, how we learn from them and grow from them.