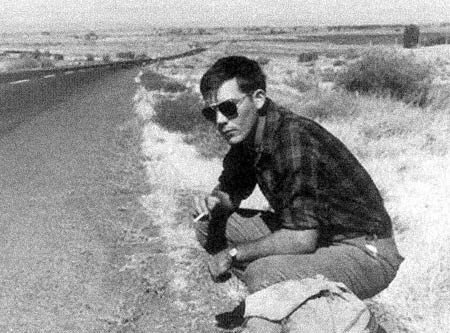 I finished
Gonzo
over my spring break, and let me tell you: what a read. It was a long book, since Hunter S. Thompson knew and influenced so many people that so many people had to comment on his life, but it goes by pretty quick. It's very interesting to see all the different perspectives that people interpreted of his life and personality. All very similar, all very interesting.
The facts that interested me were just that he totally controlled his life. Even when he died, he needed to control that too. He started to phsyically wear down, and he had been this dominant physical presence his whole life. So when he was becoming an old man who needed help functioning, he knew that was it, so he ended it himself with a gun in front of his typewriter.
After they discovered his dead body (after he pulled the trigger when his son and family were in the house to visit), they found this note in his notebook from four days prior to his suicide:
"Football season is over
No More Games. No More Bombs. No More Walking. No More Fun. No More Swimming. 67. That is 17 years past 50. 17 more than I needed or wanted. Boring. I am always bitchy. No Fun--for anybody. You are getting Greedy. Act your old age. Relax--this won't hurt."
Crazy huh? He knew he was going to do it. He was just planning the right time without letting on when it would be. That must be crazy--deciding when you will die. Too much power, too much control in my opinion. Too scary.
They didn't mention launching off his ashes in the giant Gonzo tower constructed by Johnny Depp though. I didn't realize how strong their relationship was. Before they made
Fear and Loathing in Las Vegas
, Johnny lived in Hunter's basement, interviewed him constantly, and just hung out with him talking, watching sports, shooting guns, etc. Friends commented that he got Hunter so down to a T that it became pretty frightening. It would be since Hunter was so insane. Insane is brilliant though, brilliant, insane.
Now Depp will star as him again in
The Rum Diaries
, the next book on my to-read list. Apparently this was in the works before Hunter died, but his death kind of got in the way. Excited for that to come out.
The last bit I wanted to comment on was a question that Hunter posted in his kitchen that he reflected on every day:
What is the desired effect?
I think it's so interesting. You can apply it to whatever you're doing, especially when it comes to creating, like he did so constantly. I am going to ponder on that one, sit on it, if you will, and see if it brings me anywhere new or special.
Below, I am going to paste a tribute to my good friend Paul who dressed up as Hunter for Halloween about two-three years ago. Awesome costume. He had the personality to fit it too. And to my surprise, a lot of people knew who he was. Quite impressive.
Does anyone remember when they heard Hunter S. Thompson died? Any interesting memories or stories you heard about him? Do you like/dislike him?