Maybe this blog is a bit late, but I still want to ask and comment on Stone Temple Pilot's recent reunion. They will be going on tour this summer (actually hitting the Capital region and some festivals as well) which is a big deal since they haven't played in a very long time.
STP is one of those bands that I was too young to go see when I was younger, and they're on my list for bands I would LOVE to see before I die (realistically). So this is a fantasy that I can live! I went to see Velvet Revolver last summer thinking that they were my closest shot to STP, and they did play some STP songs. They didn't cure my fix though.
However, even though it's cool that they're coming back (since they play amazing music), Scott Weiland is being a downer for me. He's so messed up that it makes things awkward. I know that he's the rock star and has access to so many addictive substances, and addiction is strong once it grabs hold of you, but I have read that it's hindering the band, just as it had with Velvet Revolver.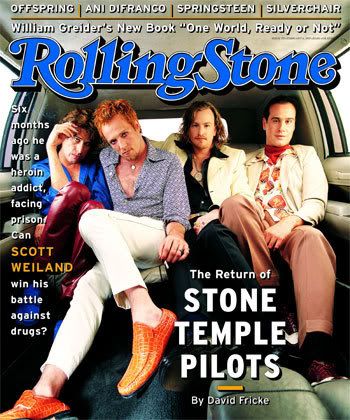 I read in
Rolling Stone
that, at a Velvet Revolver concert, Scott announced during a song that it was their last concert they'd ever be playing. Now, mind you, the band was just as surprised as the audience. Slash commented in the article saying that he was so surprised that the band just looked at each other in astonishment. He went on to say that, in a way, it was their last performance. It's their last performance with
him
.
Now Scott's back with STP, and the first week back, he gets a DUI. Stop getting your bad habits in the way of good music! Velvet Revolver band members also complained about his tendencies to come way late, not show up, or just be drugged up to begin with. And these are ex-drug addicts and perhaps casual users themselves. Come on Scott. Get it together. It's lame.
And, I am still in denial that he's not gay. Not like it's a problem. Now, I obviously have nothing against homosexuals, but I felt that I really sensed my gay-dar on him. He is so flamboyant in performance, dress, and mannerisms, that it seemed too easy to pick out. But apparently he's married. Not that this is a bad thing, and not that this is abnormal with major rock stars (even when they're not), I just thought it made sense with him. Maybe not. Just rambling.
So, what do you think of Stone Temple Pilots reuniting? What do you think of Scott Weiland as of late? What are some favorite songs?