My best friend is really into Frida Kahlo. She even was her for Halloween a few years back. She looked kind of freaky, but it was impressive to see how many college students actually could recognize who she was. I really didn't think anyone would have a clue, but I think the unibrow gave it away.
I think I really started to get into her in high school when my art teacher would show us her paintings. But, once I saw her movie, I really was hooked. Salma Hayek played an incredible Frida, and it really shed light on her background story.
The artist who solely paints self-portraits is really interesting. Her work is so unique and different than other artists; perhaps this is why she fascinates me so much. Each self-portrait reveals different sides of the self, and I think that the self does have this many sides for an artist to paint a life's worth of paintings. I just find her riveting and fascinating.
Frida Info: 1907-1954. She married Diego Rivera, famous muralist, and was fascinated and inspired by him her whole life. After an accident that left her bed-ridden for months, Frida took up her career as a painter and abandoned studying medicine. She chose self-portraits because, "I paint myself because I am often alone and I am the subject I know best."
From Wikipedia: "Drawing on personal experiences, including her marriage, her miscarriages, and her numerous operations, Kahlo's works often are characterized by their stark portrayals of pain. Of her 143 paintings, 55 are self-portraits which often incorporate symbolic portrayals of physical and psychological wounds. She insisted, "I never painted dreams. I painted my own reality."
Frida was bisexual and often had affairs with both men and women. Her marriage to Diego was rocky and eventually ended when he had an affair with her younger sister. They later remarried even though that part was a bit rocky as well.
Frida's death: "A few days before Frida Kahlo died on July 13, 1954, she wrote in her diary: 'I hope the exit is joyful - and I hope never to return - Frida.' The official cause of death was given as pulmonary embolism, although some suspected that she died from overdose that may or may not have been accidental.[3] An autopsy was never performed. She had been very ill throughout the previous year and her right leg had been amputated at the knee, owing to gangrene. She also had a bout of bronchopneumonia near that time, which had left her quite frail."
Here are some Frida paintings. Let's see which ones you like.
Roots
The Little Deer
The Two Fridas
In the Broken Column
My Nurse and I
Marxism Will Give Health to the Sick
My Grandparents, My Parents, and I
Diego in My Thoughts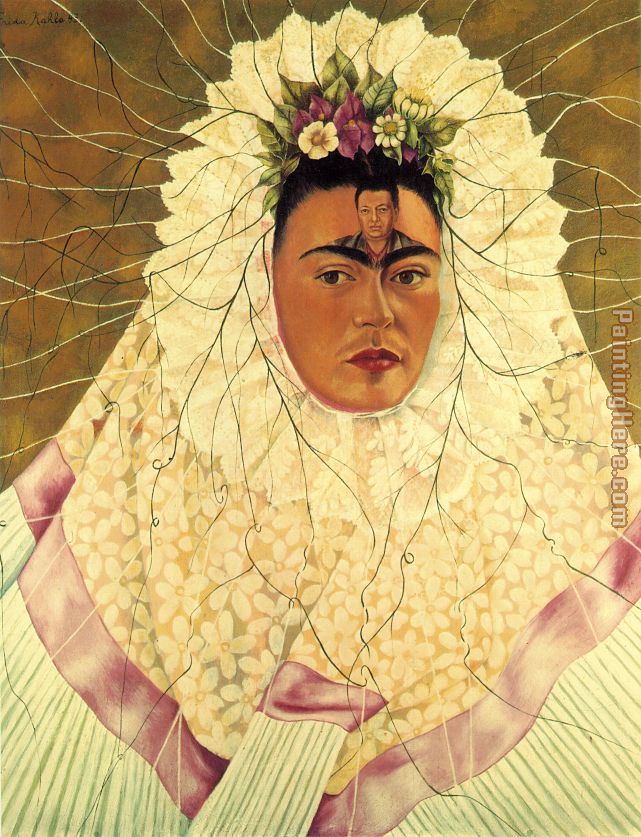 Frida Kahlo and Diego Rivera
Frida in Bed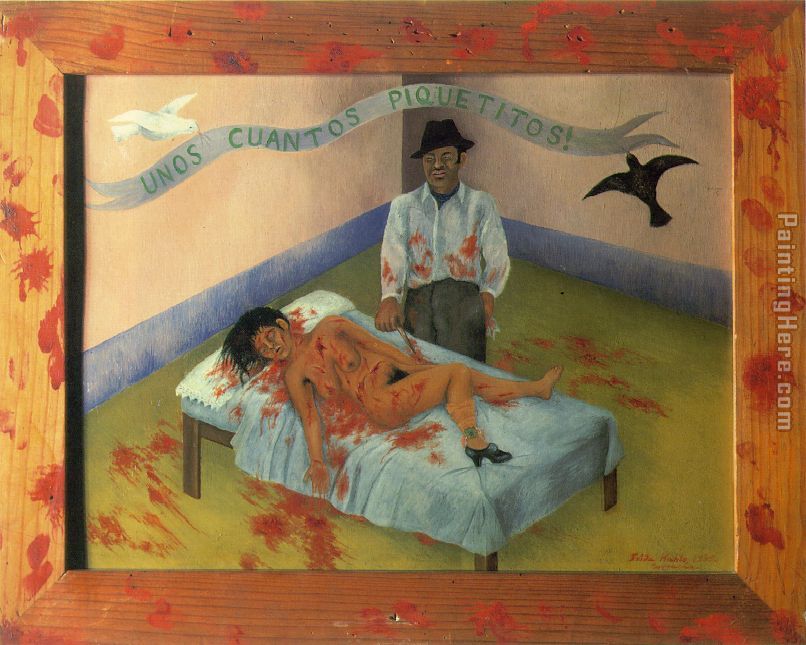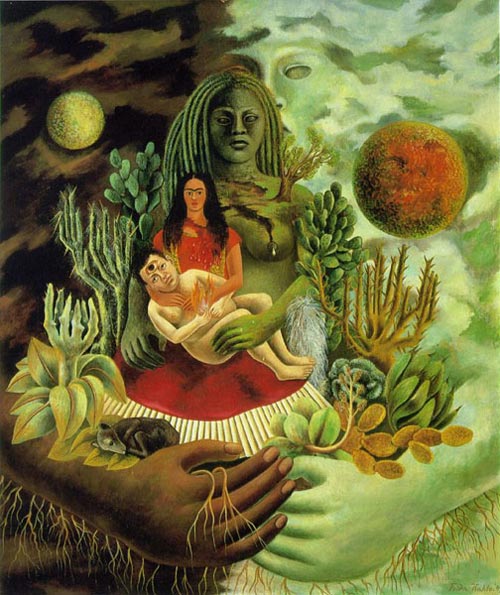 Self Portrait with Thorn Necklace, Hummingbird and Unibrow
Monkeys
Memory
Without Hope
Self-Portrait Dedicated to Leon Trotsky
Tree of Hope
What do you think of Frida and her paintings?