The Dickman twins completely astonished me when I discovered them: the two men are twin poets. Yes, twin poets. What a crazy situation.
The New Yorker
featured them in a breathtaking article called "Couplet" by Rebecca Mead. The two poets are basically identical, looking only slightly different than the other. They both live in Portland, Oregon where they grew up, but being a poet is hard. They both have regular jobs and write poetry for fun. (Michael works as a prep cook and Matthew works at Whole Foods). The thing is though, these guys are ridiculously talented. It blows my mind that these two are still working menial jobs when they have so much literary talent! Matthew just recently won an American Academy of Arts and Sciences prize for poetry in 2008. These guys are brilliant!
You might even notice these two guys as the twins in Minority Report. They were the two twins in that massive pool of water that were hooked up to all of those tubes. They said it was the perfect environment for writing poetry--lots of thinking time.
Even though they are twin poets, they both write about very different topics. They do edit each other's pieces, as they understand the meanings and directions that they are going with their work. Again, this blows my mind, and I am borderline jealous. I wish I was a twin, AND a poet! Could you imagine being both?
They both draw on similar themes: "the rough neighborhood of their youth, with its violent fathers, beleaguered mothers, and reckless, neglected kids" ("Couplet"). But, they are seen as two different poets altogether. Although they share the same experiences, they offer two completely different perspectives on the same topic or event.
Michael Dickman: His poems are fragmented, interior, and austere. They are stripped down to single word lines. They are often about violence or are described as "dead". Reading his poetry is noted as "stepping out of an overheated apartment building to be met, unexpectedly, by an exhilaratingly chill gust of wind."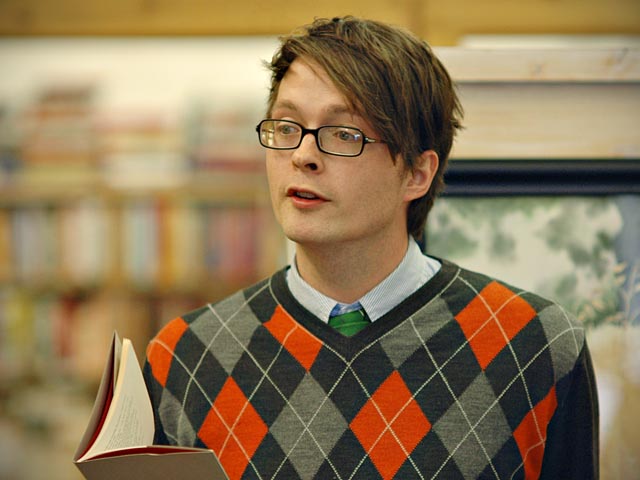 Matthew Dickman: His poems are effusive, ecstatic, and all-embracing. They are filled with pop-culture or sexual references. Reading his poetry is noted as "taking a deep, warm bath with a glass of wine balanced in the soap dish."
The twins' love for poetry grew in high school when Matthew's girlfriend was reading Pablo Neruda poems. They fell in love with poetry and have been ever since.
This story was fascinating to me: The Dickmans met Allen Ginsberg. They met him at a book signing when Ginsberg asked Matthew, "How's your love life?" Matthew scurried away but later came up to him, apologized, and asked him the same question in return. Matthew explained the situation of him and his brother as poets, and they went to tea afterwards. The next night, Ginsberg invited Matthew to dinner. They went up to his hotel room afterwards, talking about poetry and smoking cigarettes, and they exchanged information and poetry. (Can you imagine getting originals of Ginsberg poetry?) Then they kissed for fifteen minutes. Again, another crazy experience.
Also, they were approached by a publisher in New York to both write poems on their birth. They both wrote very different poems. It would be amazing if they wrote poems on similar topics and had them appear right next to each other. That poetry book would be legendary.
Here are some of their poems:
"Lents District"
by Matthew Dickman
Dear Lents, dear 82nd avenue, dear 92nd and Foster,
I am your strange son.
You saved me when I needed saving,
your arms wrapped around
my bassinet like patrol cars wrapped around
the school yard
the night Jason went crazy--
waving his father's gun above his head,
bathed in red and blue flashing lights,
all-American, broken in half and beautiful.
"Some of the Men"
by Michael Dickman
Look at
Josh's father--
Stumbling into the bedroom at three
in the morning the two of us asleep
and all that moonlight
and beat his son's
head against
the headboard
You fucker you fucker you asked for it
The moon
His jaw splashed across the pillowcase.
"Slow Dance"
by Matthew Dickman
Two men in the middle of the room.
When I dance with him,
one of my great loves, he is absolutely human,
and when he turns to dip me
or I step on his foot because we are both leading,
I know that one of us will die first and the other will suffer.
"Nervous System" (excerpt)
by Michael Dickman
When you look down
inside yourself
what is there?
You are a walking bag of surgical instruments
shining from the inside out
and that's just
today
Tomorrow it could be different
When I think of the childhood inside me I think of sunlight dying on
a windowsill
The voices of my friends
in the sunlight
All of us running around
outside our
deaths
So what do you think of the Dickman twins?