For my second Dave Matthews Band show, they definitely impressed me. The crowd is absolutely instense. I feel like you either love or hate the Dave crowd. People are either drunk, rowdy, and obnixous (or on something) or they are completely open-minded and loving. I found a good mixture of both last Friday when I saw them at SPAC for their opening night.
What a perfect day to see a show. It was warm out, but not too warm, and when it finally cooled off and night, the temperature was perfect. The crowd was SO into the show. I loved hearing the crowd (on the lawn) actually sing most of his lyrics, especially to some of the singles he played. It's such a warm, loving environment. I didn't want to leave!
Dave played for almost three hours. It was incredible. He came on around 8:15 and played until 10:15 straight. Then they broke for a little while and then played a decently long encore. Dave came on first singing solo, and then the band joined him after he finished that song.
I love their enthusiasm when they play together. You can tell that every person playing on that stage just LOVES playing music. They are all smiling and happy--Dave was even dancing at times--and most of them go off on these crazy solos. At one time, the saxophonist and Tim Reynolds--yes, Tim Reynolds was there--had a solo duel-off which was SO intense.
In honor of Leroi, Dave made a speech about him before he played "Why I Am," in tribute to him. He also dedicated his first encore song to him, talking about his love for whiskey, which alludes to the title of the album and the aforementioned song. I really liked that he did that. It was really touching.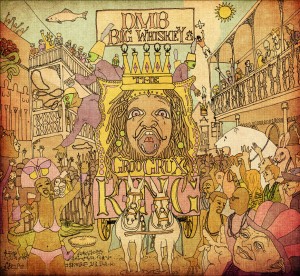 My only criticism of the show is that, I felt, they played too much of their new album. Now, I know that when a new album comes out, the band should play a lot of that album to promote it, but they played literally every song on it. Now, play a few (maybe half) of the songs, but I felt that it was overkill. They played most of the songs, if not all, which trumped them playing older classics or unknown, obscure songs that older fans like. They put on a good show, but I wasn't expecting such a bombardment of new material.
If someone else found (or knows) their set list, please help me configure mine. I couldn't find any online yet, or maybe I wasn't looking hard enough. Include other songs from
Big Whiskey and the Groogrux King
. These aren't necessarily in order, but these are the ones I remember him playing:
Funny The Way It Is
Pig
Seven
Recently
Shake Me Like a Monkey
Alligator Pie
Crush
Lying In the Hands of God
Why I Am
Dreaming Tree
Spaceman
Corn Bread
You and Me
Squirm
Burning Down The House
Ants Marching
Grey Street
__________________
ENCORE
Rye Whiskey (Dave solo)
The Maker
Stay (Wasting Time)
Check out the set list from the next night:
Shake Me Like a Monkey
Typical Situation
Alligator Pie
You Might Die Trying
Dive In
The Stone
The Stone (reprise)
Funny The Way It Is
Lying In the Hands of God
Lie In Our Graves
Why I Am
Jimi Thing
You and Me
The Song That Jane Likes
Crash (Into Me)
Time Bomb
Two Step
__________________
ENCORE
(#40)
Granny
All Along The Watchtower
Halloween
Which night would you rather go to? (Note, the first night was a beautiful night; the second night was quite rainy).
Would you rather go to a show where the environment was awesome and the music was mediocre, or would you rather go to a show where the enviornment wasn't very good but the music was awesome?
What did you think of Dave playing live at SPAC?