For the past few weeks, I have been completely obsessed with watching the Olympics. I've never been this sucked into them before--the winter ones don't really intrigue me, and I didn't pay much attention in Athens or previous ones. But, these competitions were so competitive and exciting--these athletes were outstanding beyond words.
Brief comments on the Olympics as a whole: amazing architecture and hosting by the Chinese. They have impressed me this week also in competition; they have some of the most acrobatic, talented, and devoted athletes of the whole competition. They blew me away in gymnastics and diving alone. They have precision and grace.
Women's beach volleyball, to me, was the most entertaining to watch. Misty May-Treanor and Kerri Walsh stole the show. They have been undefeated for the past year, and they continued that streak when they won the gold. The two were unstoppable! They are so strong, coming back from being behind, and are a complete powerhouse. Walsh is incredible at blocks and spikes while May digs and saves balls that I wouldn't even expect to be returned. They always put on an amazing performance and astounded me with their talent. One announcer said they might be the best women's beach volleyball team of all time: I agree. Their chemistry is easy to be seen when they play. They deserve their award because their hard work and determination comes through.
Men's beach volleyball also did a fantastic job, deserving the gold. They were also fun to watch, but I am still a much bigger fan of the female duo.
Women's gymnastics also was extremely entertaining. I really wanted the Americans to take the all-around, but it worked out in the end anyway. I was a bit upset about the young age of the Chinese girls. You could see it in their faces that they weren't 16 yet, not quite yet matured. They still had baby fat and premature bodies. The competitions were still incredible. Shawn Johnson and Nastia stole the show though. I must admit though: Shawn is definitely my favorite. She seems like a normal, happy, appreciative person while Nastia seems too focused, serious, and borderline mean. She seems very cold while Shawn is innocent and naturally and genuinely happy. They both deserved their medals and played well against the other incredible gymnasts in the Olympics.
Diving: The Chinese blew me away. Americans didn't do so well. I can't believe that people's bodies can move the way they do! I am so impressed with their talents.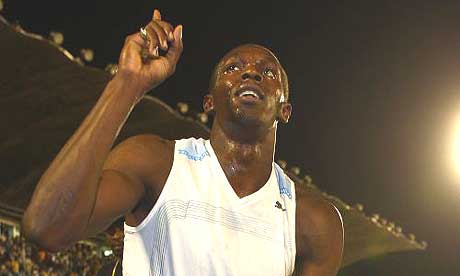 Track and Field: Usain Bolt was so fun to watch. His energetic and amusing personality deserved the golds he won. He was so goofy and naturally funny, and what talent he has! I hope to see him race more in the future. American runners competed SO well--I was impressed by how many of our members actually made it to the finals. The relay teams messed up a bit (I can't believe BOTH teams actually dropped the stick--and the Jamaican women too!), but we still did well in other track events. I can't believe people can run that fast... It's astounding. (Sidenote: My heart breaks for Lolo Jones; she deserved her gold).
Swimming: Michael Phelps obviously did amazing, but I am SO sick of hearing about him. Is anyone really going to buy that DVD about his life and his races that won himt he gold medals?
Every event was so fun to watch... I just felt bad for poor Bob Costas who seemed to work off the clock. How come they couldn't get another person to tag-team with him so he didn't work so much?
What did you think of the Olympics? The competitors? The outcomes?