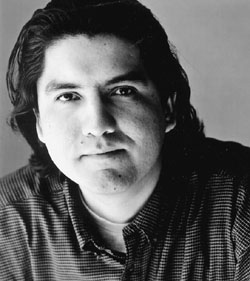 No, this blog post is not about the television show. Rather, it's about a poem I found by an INCREDIBLE American author and poet, Sherman Alexie, that appeared in
The New Yorker
last month. The poem is called "Survivorman," which I find interesting because it is squished into one word.
Check it out below:
Survivorman
by Sherman Alexie
Here's a fact: Some people want to live more
Than others do. Some people can withstand any horror
While others will easily surrender
To thirst, hunger, and extremes of weather.
In Utah, one man carried another
Man on his back like a conjoined brother
And crossed twenty-five miles of desert
To safety. Can you imagine the hurt?
Do you think you could be that good and strong?
Yes,
yes
, you think, but you're probably wrong.
I love Alexie's poems because they are so blunt and clear to the point. I like the story example he used here, a man carrying another man through the desert despite the circumstances, but I was also thinking of the man who cut off his own arm to suvive. Same kind of logic here.
The main point: Besides his fact painted clearly at the beginning of the poem, people would say that they would be stronger than they really are. No one really knows how they would react until they're in the given situation. And, some people, in these dark, life-or-death situations care only about themselves. I think most people would have left that man to die and would have trekked the desert themselves. It's easy to say that you would do it, but a lot of us wouldn't have the willpower or the stamina to carry that man and stay alive yourself. It's a tricky situation.
How many fictional examples have we seen, where some people cave to pressure (when abandoned on an island or in the woods) and when some thrive under it. Some people fight to survive; others give in. Some people become leaders and want to help others; some people simply fend for themselves only. It's interesting to see true human nature, and true human nature would easily come out in the situation presented above.
In terms of the way the poem is structured, there isn't too much to talk about. Perhaps the two words--Survivor Man--placed together is worth talking about. I guess they were both so in tune that they became one word, one identity? Why else smash the words together?
The poem is quite surface. There isn't TOO much to talk about in terms of layout or structure, but the content could really spark a good debate. I could see this poem being used as an introduction to
Lord of the Flies
or some other type of survival book/story. This could definitely be used in any kind of classroom; I just think English because that's my focus.
So what do you think of Sherman Alexie or "Survivorman?"