Supposedly, this is one of the best movies of the year:
Gran Torino
. Apparently this is also Clint Eastwood's last film that he will star in. I think it's crazy that he can still find roles at this point in his life. The writers of the movie didn't think this movie would be a success because they didn't know if they could find a popular elderly man to star in the movie to make it sell. Well, it's a good thing they were wrong.
I don't know about other people, but when I watch Clint Eastwood act, sometimes I feel uncomfortable because he's so old. I feel like he struggles to speak sometimes, and watching him walk is hard. I give him credit for still acting; he did a fine job in the movie. At 78, he still has it in him even though he is a bit fragile. The Los Angeles Times wrote, "It is a film that is impossible to imagine without the actor in the title role. The notion of a 78-year-old action hero may sound like a contradiction in terms, but Eastwood brings it off, even if his toughness is as much verbal as physical. Even at 78, Eastwood can make 'Get off my lawn' sound as menacing as 'Make my day,' and when he says 'I blow a hole in your face and sleep like a baby,' he sounds as if he means it." I agree.
Eastwood really was an old action hero. He was fearless against the gang members, which I found astounding. He even put up a decent fight. His snarl was incredible. I really bought his charatcer--the grouchy, racist old man. In terms of acting, he made me buy it that he was so close-minded and racist. That's a sign of good acting.
I couldn't get over how racist the movie was. I know that was the point of the movie, but I found myself saying "oh my god" so many times because of racist comments. It was astounding. I was blown away at how many times the characters could handle being called all of those names or being stereotyped for food, clothing, or behavior, but I guess life could be like that for some of them, and since I don't see it everyday where I live, it comes as a shock to me.
Gran Torino
had good messages though. I was surprised that such an old man could turn around in his views for a different race, especially one that he fought against for so long in the war. I liked the movie's central themes. Race doesn't matter. Gang violence is stupid and will only land its members in jail, not in a suitable career. Appreciate and learn from your elders. Culture clashes. Genereational differences and clashes. Why do adolescents show so much disrespect?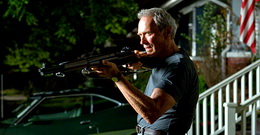 I also liked looking at the symbol of the Gran Torino. Once the movie was over, I found myself asking, why would they name the movie after the car? So then I got thinking. The car was from Walt's/Eastwood's past, a wanted, sought-after item. Respect. "Coolness." Image. When his Hmong neighbor Thao/Toad wanted the car at first, the gang made him to try to steal it. Later on, once Thao earns Walt's respect, he is given it to him once Walt dies. In life, you can either go down the wrong path--trying to steal or cheat--or you can be respectful and honest--befriending someone or earning it the right way--so Thao honestly and rightfully earned the car for himself. I think it was a subtle message to be a better person and earn what you want.
The plot development in the movie was very good. I like how it built up to the climax gradually--conflicting with the Hmong gang--while Walt and Thao became friends. Walt really left an impression on that young guy. Their relationship became something valuable, and Walt's comments made me laugh most of the time, even when it was kind of inappropriate.
The ending was a bit obvious, but I think it was a good one. I just wonder if a man really would have made that choice. He sacrificed his life, dying in gun shot wild fire, in order to lock up the gang so that his neighbors could live a better life without violence and corruption. I wonder if a man would really be that giving to give up his life for that. We'd like to say we would, but we never know. I like how Walt lived out his last day though. It was really hard to watch since you knew he was doing it. What would you do on your last day, if you knew?
The depiction of the priest also added some flavor to the film. I like what Walt said about him, something along the lines of, "you're an overeducated twenty-seven-year-old virgin who likes to hold the hands of old women and tell them lies about the afterlife." He told it as it is. I liked the priest's connection and his sermons at the funerals. Seeing the clash between Walt and his family was also pretty interesting. They were too caught up in their own lives to notice him, so Walt developed his own relationship with the family next door. It was touching.
Detroit was also depicted very nicely, slowly deteriorating along with the auto industry. It was symbolic for the setting to be Detroit, as relationships, generations, neighborhoods, and different racial groups were crumbling from how they used to be. Good touch.
Overall, the film was worth watching. I really enjoyed watching it. It had dark humor, in terms of racial commentary, but you could watch it on a deeper level for its overall themes, and that was worth it.
What do you think of
Gran Torino
?