I think I'm beginning to cry more during films as I'm getting older. Now, I'm not that old, but I feel that as I understand the world more and its more serious themes, movies start to get to me more. Just the other day, I watched
Cast Away
for about the third time, and it made me cry this time. I think I'm watching films differently now; you can rewatch movies with new eyes and you'll get more out of it and see more than you did the first time. That's how I feel lately with movies.
In this same respect, I just watched
The Curious Case of Benjamin Button
. There were several times throughout the film where I teared up, but I wasn't sobbing by any means. The love story was just so touching to me, and it hurt me to see how Benjamin had to go through life: "Nothing ever lasts," as he always would say.
The plot interested me to begin with because of its odd premise. There have been no other movies quite like this, and I like a plot that is different and thought-provoking. What if someone aged backwards? How would that person experience life? How would it be different for that person? How would this person experience love and death of loved ones? It's mind-boggling.
I like how the film was made though. Even though the premise is highly illogical, I bought completely into it while watching the movie. They made it seem like it could happen, that it was completely plausible. Thus, I could get deeply engaged in the movie and enjoy it as a work of fiction. It was really quite touching.
I loved how much of a "curiosity" aspect they added to the character's motivations. Many of them had a thirst for life and liked to pursue their passions. Many of them enjoyed traveling and exploring the world, which I found fascinating. The lives that many of these characters lived are dream lifes. One joined Broadway and pursued a dancing career in New York City. One hopped around the world pursuing any job that would pay. One traveled on a tug boat to explore different countries. It was thrilling to watch, and it was thrilling to explore the different decades that they lived through.
I also like the way the story was portrayed, from Benjamin's point of view from his diary and reread to his love, Daisy, as she was on her death bed. I enjoyed the flashbacks to add more material to the plot, give it some thickness. The postcards broke my heart, along with the fact that Benjamin actually had a daughter, and she realized it through reading the diary to her mother.
The clock that ticks backwards.
Benjamin's character was so strong, and it was quite admirable. He saw what was best for his daughter--to have a father that she could depend on and grow old with--so he gave up a perfect life, family, and love so that they could live well. He even gave them his life savings in order to allow for that to happen. He gave up a lot of things just so that people in his life wouldn't get hurt, which meant that he lived a life of solitude, which is very hard for one to do. He also experienced something that no one else ever has, so he had to go through that experience alone. Alienation is a big theme in this film, and it broke my heart to see him go through it because it's inescapable.
This reminds me of the recent post I wrote about "Survivorman," the Sherman Alexie poem. We all say that we could have done what Benjamin did, but it takes a really strong person to walk away. I really don't know if I could let go like that. He also had to allow his love to take another spouse. That would eat at me like no other! I think his character is trying to show us how strong one can be for the greater good of others. I don't know how often it happens, but it's good to see it occur even in a fictionalized version, even as an example of some sort.
I also really enjoyed how they went through Daisy's car accident. Benjamin narrated all of the tiny details that led up to her accident, and if one of those things HADN'T happened, then she would have kept dancing and pursuing her passion. But, since every little detail fell into place (getting coffee, forgetting the jacket, being stopped by a truck, having a late package, a broken shoelace, etc), she ended up in the hospital. Because she was unable to dance, she met Benjamin. Life is a series of events that happen for a reason, even if it looks horrible at the time. I like how they portrayed that, for her life wouldn't have been the same if this accident didn't happen. It made her stronger, and it brought her to the love of her life.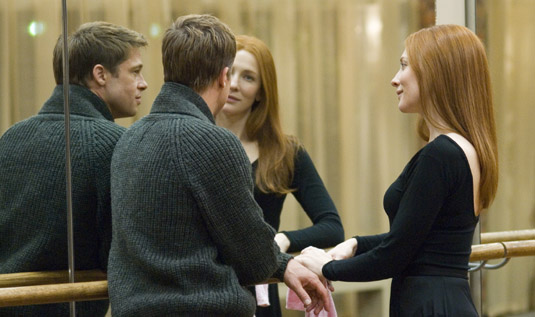 I think they did a good job, also, with making him look different ages. I'm sure that must have been difficult, but they did a fine job making it look real. It's so interesting to think about an old person that's young at heart (for real) or a young person who is truly wise beyond his years. Good concept, and well explored.
On a different note, I was also interested to see the film because it was adapted from an F. Scott Fitzgerald short story, the author of
The Great Gatsby
and
This Side of Paradise
. I read the plot synopsis, and the story seems to be COMPLETELY different from the film. The only connection is how Benjamin keeps aging, and that he falls in love. I mean, I guess they made it so it was more interesting and dramatic, but I would have been angry if I was Fitzgerald because they stole his idea and totally rearranged the plot. Read a plot summary of the story
here
if you are interested.
What I also really enjoyed about the film was its writing. The dialogue and the narration was very deep and thoughtful. They are worth noting and thinking about. I will put some memorable quotations below to think about.
"Your life is defined by its opportunities...even the ones you miss."
"It's a funny thing about comin' home. Looks the same, smells the same, feels the same. You'll realize what's changed is you."
"For what it's worth: it's never too late or, in my case, too early to be whoever you want to be. There's no time limit, stop whenever you want. You can change or stay the same, there are no rules to this thing. We can make the best or the worst of it. I hope you make the best of it. And I hope you see things that startle you. I hope you feel things you never felt before. I hope you meet people with a different point of view. I hope you live a life you're proud of. If you find that you're not, I hope you have the strength to start all over again."
"Benjamin, we're meant to lose the people we love. How else would we know how important they are to us?"
"You can be as mad as a mad dog at the way things went. You could swear, curse the fates, but when it comes to the end, you have to let go."
"Everyone feels different about themselves one way or another, but we all goin' the same way."
"Along the way you bump into people who make a dent on your life. Some people get struck by lightning. Some are born to sit by a river. Some have an ear for music. Some are artists. Some swim the English Channel. Some know buttons. Some know Shakespeare. Some are mothers. And some people can dance."
Terrific acting as well. Very smart writing. Overall, a long film, but a good film. Very well done. I recommend it if you have a lot of time, an open mind, and some time to explore its deeper ideas.
What do you think of
The Curious Case of Benjamin Button
?