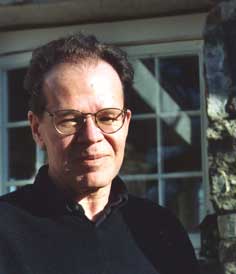 I enjoyed this poem from
The New Yorker
, maybe because I am an English teacher. Maybe not. Check it out anyway though.
I think it also shows how much some people take the English language for granted. I can't imagine one of my students now having this kind of attitude towards learning and reading. They don't put in this kind of work ethic to further their education. If only they still had the drive like in this poem...
Anyway, check it out.
Learning to Read
by Franz Wright
If I had to look up every fifth or sixth word,
so what. I looked them up.
I had nowhere important to be.
My father was unavailable, and my mother
looked like she was about to break,
and not into blossom, every time I spoke.
My favorite was the Iliad. True,
I had trouble pronouncing the names,
but when I was going to pronounce them, and
to whom?
My stepfather maybe?
Number one, he could barely speak English;
two, he had sufficient intent
to smirk or knock me down
without any prompting from me.
Loneliness, boredom and terror
my motivation
fiercely fuelled.
I get down on my knees and thank God for them.
Du Fu, the Psalms, Whitman, Rilke.
Life has taught me
to understand books.
The only sort of motivation that I see in students are ESL students, especially those who have moved or are temporarily visiting America. American students seem to have less motivation, and when it comes to "time" as noted above, they like to put their time in other places besides school work. Since we're living in this fast-paced world, they want things to be done as quickly and efficiently as possible. Learning is not like that, and that can sometimes be hard to communicate.
The last two lines are great too. I know that those words will ring true to me later on too when I am much older. I find it true now, but I can't imagine how more true they will be when I have must more experience than I have now.
So, what do you think of "Learning to Read?"